HOLZ-HER ZENTREX 6220 power: The intelligent, high performance pressure beam saw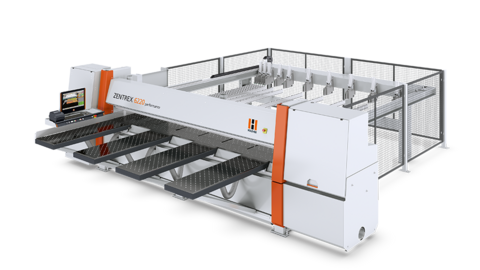 The horizontal panel saw ZENTREX 6220 power from HOLZ-HER is distinguished by its absolute cutting precision and comprehensive basic features including our technically perfected OPTI-CUT software package. Simple linkage to automated panel storage facilities as well as uncomplicated data transfer from conventional branch software or software from other suppliers is a further highlight of the ZENTREX series allowing implementation of custom concepts with short amortization times for handicraft and industrial businesses.
All horizontal HOLZ-HER pressure beam saws in the ZENTREX 6220 series set new standards in the upper class with enormous dynamic power and use of precision technology such as ground linear guides and controlled servo-drives with CNC technology. All moving axes are equipped with precision, brushless servo-drives for optimum performance. The completely redesigned PLC control offers minimum cycle times in addition to extreme accuracy.
Prices
x
Different requirements - different prices
The price of a HOLZHER machine is just as individual as your requirements are. Therefore, let us discuss briefly what is most important to you – you will then receive our preliminary, non-binding quote.
Personal advice
x
Personal advice – for higher productivity and greater efficiency
Together with your HOLZHER expert you will find the ideal machine for your requirements. Simply submit the completed form, and your local HOLZHER expert will be happy to discuss all further details with you.
---
Here is what the HOLZ-HER ZENTREX series offers
Here is what the HOLZ-HER ZENTREX 6220 power offers
Saw Blade Protrusion up to 130 mm
Sawing Units up to 25 kW
Cutting Lengths: up to 5,900 mm
Cutting Widths: up to 4,250 mm
The CUT CONTROL 2 control package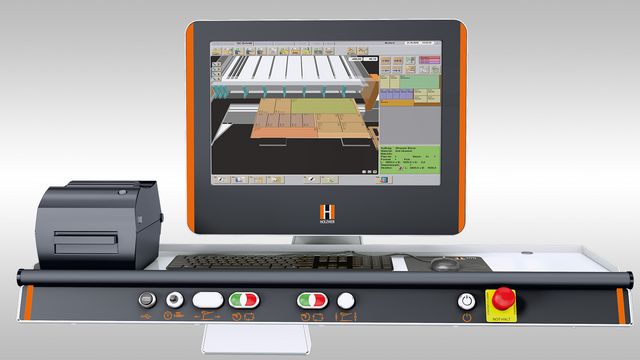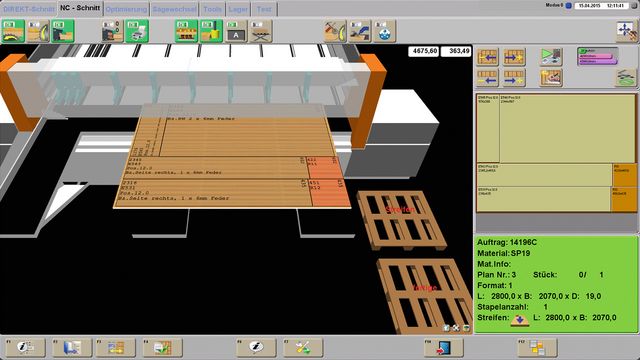 The high performance software package for large HOLZ-HER industrial saws
The control is decisive for the power output of a state-of-the-art pressure beam saw. The ZENTREX series is controlled by our CUTCONTROL 2 and the preinstalled EASY-PLAN and OPTI-CUT software packages.
Everything at a glance:
Standard, large 19" monitor (with optional touchscreen) and large, clearly arranged buttons make it possible to machine absolute, series and format cuts with integrated groove.
OPTI-CUT and EASY-PLAN optimization software preinstalled at the factory.
Individual jobs can be assigned a priority at any time, job programming parallel to cutting.
Graphic 3D user interface for intuitive operation and machine sequence functions for NC cutting.
Program-controlled measurement of reference dimensions when saw blade is changed.
Information display indicating running meters for main and prescoring saws.
Individual adaptation of function and parameter settings.
Label printer (optional) for barcode labels
(also data matrix barcode incl. software module for creating labels).
Too bad all machines are not as intelligent as the HOLZ-HER ZENTREX 6220 series:
Automatic, infinite cutting height adjustment
The optimum saw extension is calculated using the stack height measured by the pressure beam and the adjustable saw blade protrusion.
Optimized automatic cutting length feature
The sawing carriage is controlled by this optimization feature. The start and end of the cut are calculated, allowing the sawing carriage to be prepositioned beneath the panel.
Motor-driven groove height adjustment
Adjustable groove depth from 0 - 130 mm programmable on control and optimization. Adjustment is accomplished using a recirculating ball screw in the 0/1 mm range, including grooving software with graphic support.
The bidirectional grooving feature (FCM - Fast Cut Mode) - achieves the shortest possible cycle times for grooving. On HOLZ-HER machines, grooving is also accomplished during sawing carriage return!
Electrical prescoring saw adjustment
Allows simple and perfect adjustment of the prescoring saw on the monitor, in the shortest possible time, with minimum effort.
The positions of the saw blades in relation to the tool and then to the material are saved, eliminating additional adjustment work when changing tools for various materials, etc.
The grooving and cut-out equipment allows grooves, window or corner cutouts to be made including programming software with graphic support.
Intelligent workpiece clamps
The workpiece clamps are controlled by an optimization feature (or manually). Only the workpiece clamps actually required to clamp the specific panel/stack are closed. This saves a great deal of pneumatic energy and reduces cycle times for closing.
Angle pressing device, double version
The alignment force is automatically preprogrammed using the material (parameters) and stack height for optimum prepositioning. This eliminates waiting times when aligning the panel strips against the angle guide.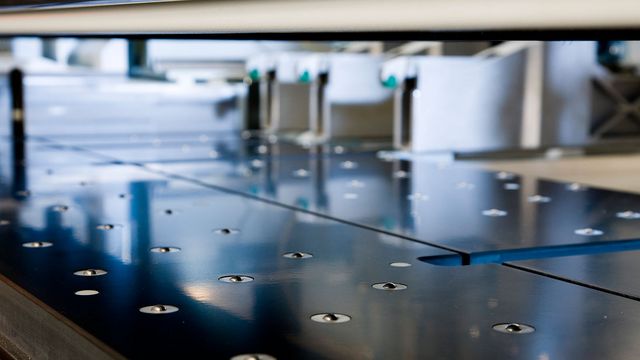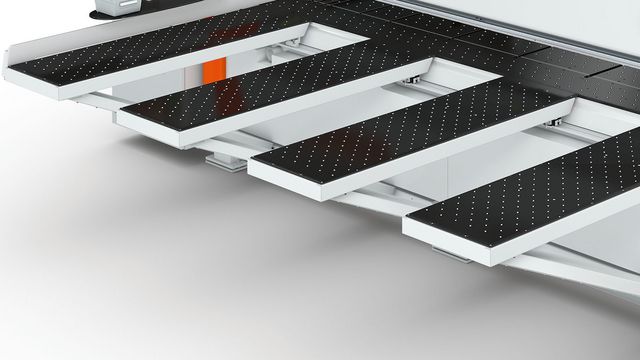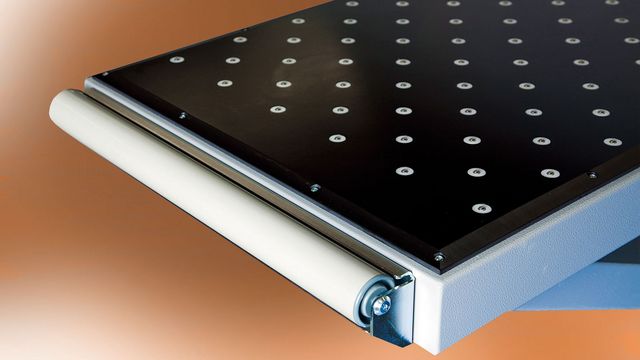 High functionality – perfect ergonomics
The equipment and possible options on the ZENTREX 6220 are defined by demanding industrial standards.
The machine table is equipped with air nozzles to form an air cushion before and after the sawing line, ensuring easy and gentle panel handling.
The air cushion tables (1,800 mm) are supported directly on the body of the machine and can be adjusted - on the mobile version - easily to the material dimensions and height of the operator.
Extremely stable design of air cushion support tables for exceptionally heavy stacks of panels.
The support tables can be moved very easily for workpieces with small dimensions or to obtain additional space.
Lateral and front mounted feed rollers on the support tables provide for smooth, ergonomical and easy feed to the saw.
Powerful sawing units up to 25 kW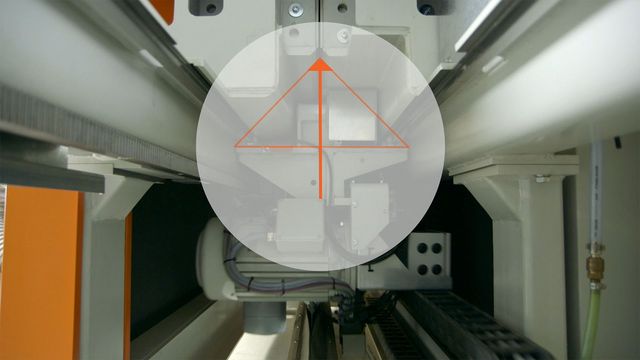 High Power – Extremely Smooth Operation
The patent-pending sawing unit is distinguished by its performance, precision and enormous cutting power. The saw blade is moved to the desired height in seconds by the servo-motor. Here the powerful drive motor remains in position and does not have to be raised. This allows the saw to be moved infinitely to grooving depths and saw blade protrusions up to 130 mm at enormous speed. Panel stacks up to 120 mm can be cut easily by the high power motors.
The prescoring saw can be adjusted under program control using the servo-technology. A postforming saw for material thicknesses up to 50 mm with drive power of 3.0 kW is also available as an option.
The solid layout of the machine column and ideal triangular power transfer together with ground and hardened linear guides and brushless servo-drives on all axes allow massive stacks to be cut to perfection.
TwinPress – two-sided angle pressing device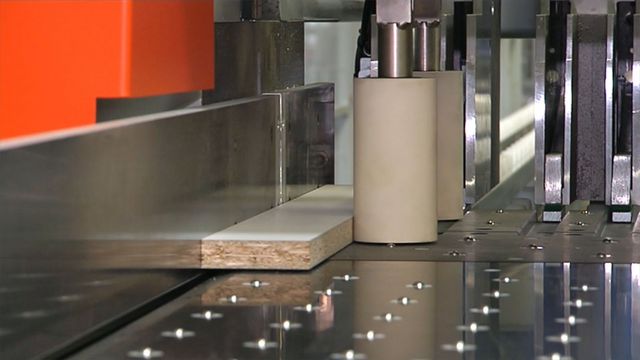 Two-sided angle pressing device (program-controlled) - for short cycle times
Scope of functions:
TwinPress – applies pressure to both sides of the workpiece in front and in back of the sawing line
Servo-controlled – automatically pre-positioned
Pressure length: 35 – 2,200 mm for gentle material handling
The rotating pressure roller prevents damage to the workpiece
(optional on ZENTREX 6220 classic).
Freely programmable rip fence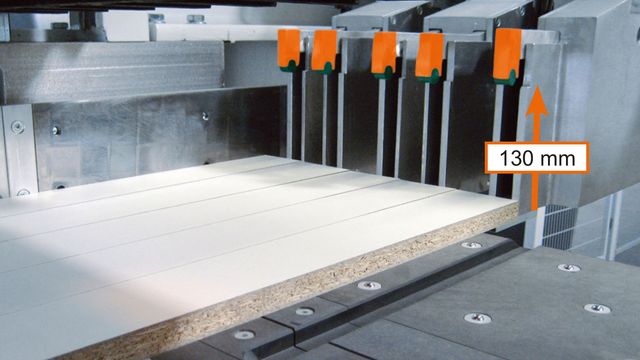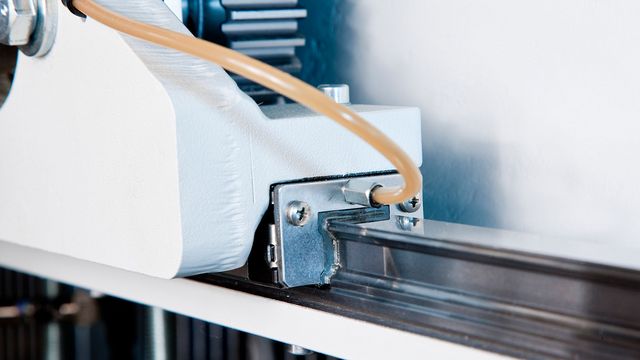 Precision guided, freely programmable rip fence on linear guides with dynamic servo-drive. Up to three double finger clamps in stop area allow narrow strips to be cut simultaneously. Floating-type workpiece clamps compensate for tension in the panel stacks toward the top.
Floating workpiece clamps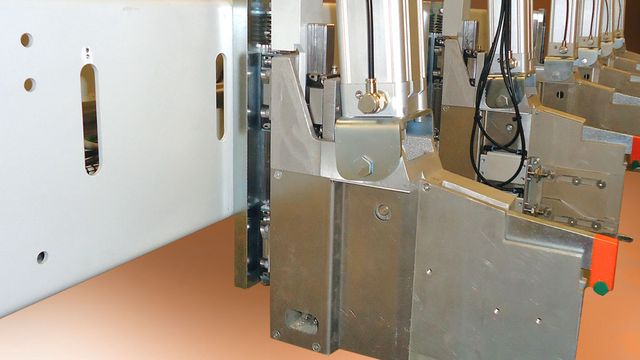 The floating workpiece clamps mounted on double linear guides move the material to be cut into position powerfully and precisely. The programmable pressure and intelligent clamps guarantee careful handling. The corners and edges of the panels are handled carefully to prevent damage even to sensitive material. The optional measuring system on the clamps allows even faster cutting times. It transfers the material thickness directly to the control for precise positioning of the pressure beam right from the start.
Optional controlled stops are available for precise cutting on unveneered workpieces.
Remnant cutting device integrated into the pressure beam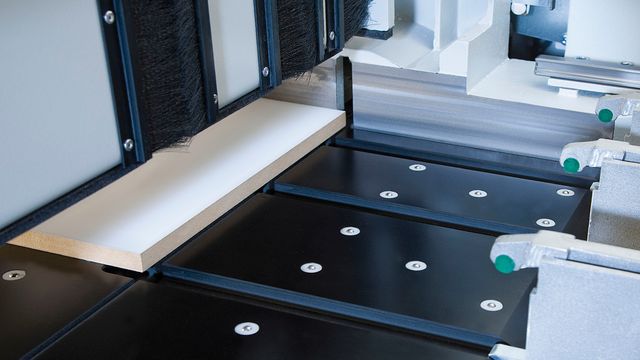 Remnant cutting device in pressure beam - the clamps retract into the grooved pressure beam. This allows panels to be cut completely without remnants for perfect utilization of the entire panel.
Optimization module EASY-PLAN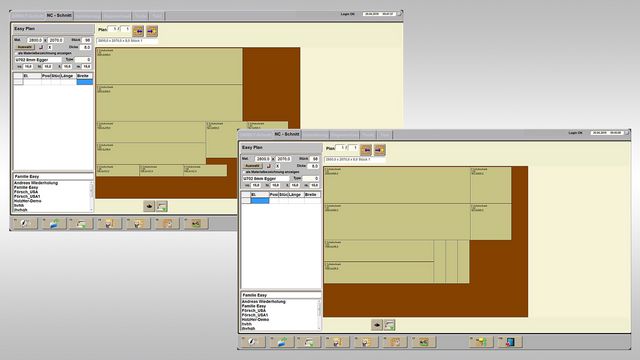 EASY-PLAN – The name is the program
The EASY-PLAN optimisation software installed as a standard feature provides all functions, such as:
Entry of material data and parts list data
Job summary
Cutting plan survey for optimized jobs (representation at one level)
Material-related result display in graphic form.
Display provides information on required material formats, panels and remaining formats per job.
Complete jobs can be reset and booked back into the parts list at any time.
The material data entry provides information on length, width and thickness of the material, quantity present in stock, turnability in consideration of grain pattern, material designation, type number and trimming. The parts list data includes the element number, position number, quantity, length and width.
Optimization module OPTI-CUT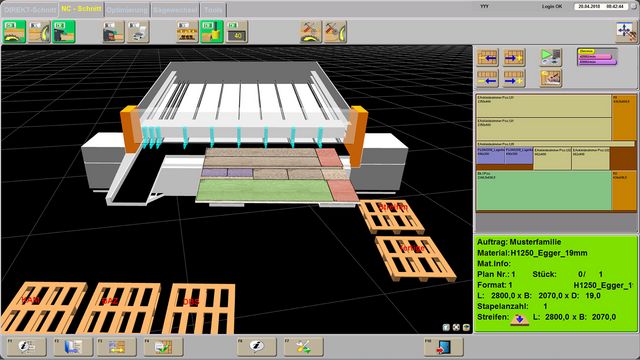 OPTI-CUT – makes your work even easier
OPTI-PRO serves for laying out, managing and optimising orders. The integrated OPTI-CUT optimisation software can also be purchased as a combination package – with machine and office version (OPTI-BASE).
The software supplies current job information for NC cutting.
An additional module imports parts lists from user programs.
Simple configuration of all system settings
Material-related result display of optimized parts lists in graphic form
Layout and management of edging lists with predefined edging recommendation lists
Defined cutting length adaptation from the software reduces cycle times decisively.
Optimization module OPTI-PRO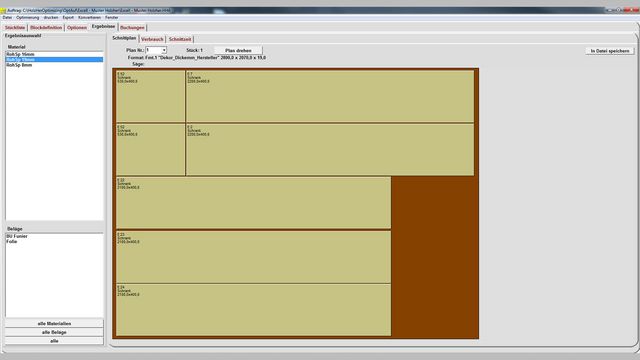 OPTI-PRO – premium optimization
The professional optimization in one complete package with a variety of additional modules. This optional optimization package for sawing software is equipped for high speed data input as well as simple transfer of cutting data from branch or ERP programs via CSV interface. For example, the OPTI-PRO can calculate cutting times and take over edging material management for you. Naturally, the block part module also allows representation of furniture fronts. Other high performance features include:
Job management
Material and coating management
Data migration
Configuration
Display of results
Material booking
Edging and grooving entries
Use of cuts
Block part optimization
Edging calculation, data migration
Export of all data
Cutting time calculation
Label printout in office
Filler parts
Bar optimization
Collective jobs
Second license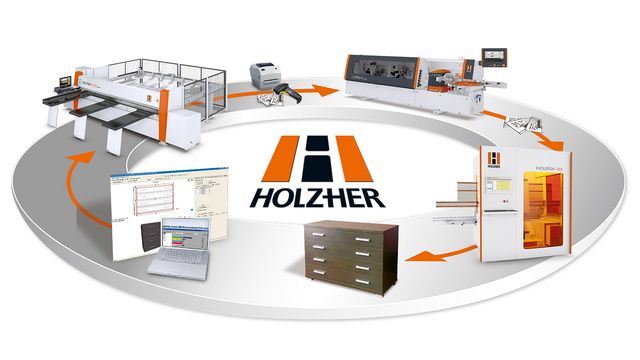 Maximum efficiency with Holz-Her machine networking
HOLZ-HER realizes your production ideas within 20 minutes from the first mouse click to finished furniture with seamless machine networking.
---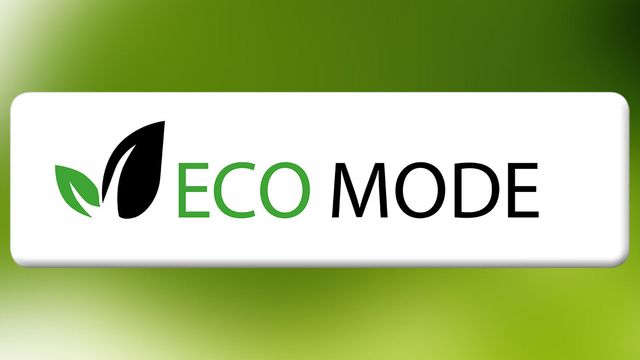 Energy savings made easy
The intelligent ECO MODE energy management for HOLZ-HER pressure beam saws not only helps preserve our environment - it also saves you money.
---