HOLZ-HER DYNESTIC 7515 | 7516: Efficient nesting with high potential for automation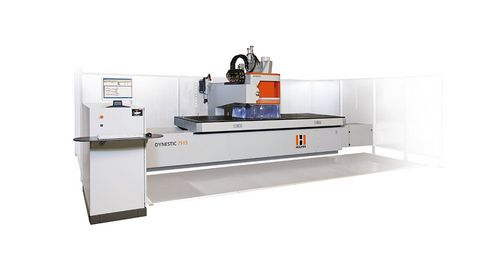 Your solution for custom production for specific customers - even for small lots. Perfect nesting and cutting technology with mature software for rectangular and free-form nesting. Our unique high-flow nesting table offers extremely high suction forces for your workpieces.
With the DYNESTIC 7515 | 7516, HOLZ-HER provides modern production shops with the perfect entry into nesting technology. The welded machine frame, ground and hardened prism guides and the stable stands ensure a high level of manufacturing precision even in long-term use and with high loads. The DYNESTIC 7515 and 7516 are available with practical machine lengths up to 6,405 mm in the X direction. The dimensions for the machining fields in the Y direction are up to 1,561 mm.
Prices
x
Different requirements - different prices
The price of a HOLZHER machine is just as individual as your requirements are. Therefore, let us discuss briefly what is most important to you – you will then receive our preliminary, non-binding quote.
Personal advice
x
Personal advice – for higher productivity and greater efficiency
Together with your HOLZHER expert you will find the ideal machine for your requirements. Simply submit the completed form, and your local HOLZHER expert will be happy to discuss all further details with you.
---
Here is what the HOLZ-HER DYNESTIC series offers
Here is what the HOLZ-HER DYNESTIC 7515 | 7516
Machining in X Direction: Up to 6,405 mm
Machining in Y Direction: Up to 1,560 mm
Machining Heights up to 160 mm
Vector Speed 100 m/min.
"BetterNest" - the optimum nesting software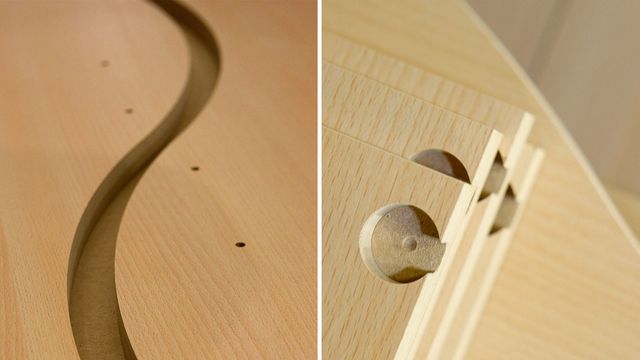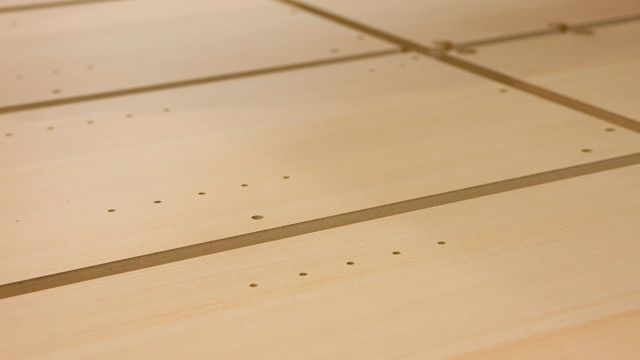 Innovative operator software for optimized cutting and processing
The increasing popularity of nesting technology as a combined cutting and CNC processing solution for large quantities of panels has also increased the requirements placed on the nesting software. For this reason, HOLZ-HER offers the "BetterNest" software as an auxiliary module for the CAMPUS / NC Hops software for the functional nesting machining centers in the DYNESTIC series.
This module is available for pure rectangular nesting or as a free-form version with a completely new type of algorithm offering never-before-achievable nesting results with cutting losses far below that obtained with conventional nesting software. In combination with its simple operation in spite of its enormous versatility, it significantly facilitates programming for users in the office and on the machine while ensuring maximum process reliability.
CabinetControl - for programming your furniture simply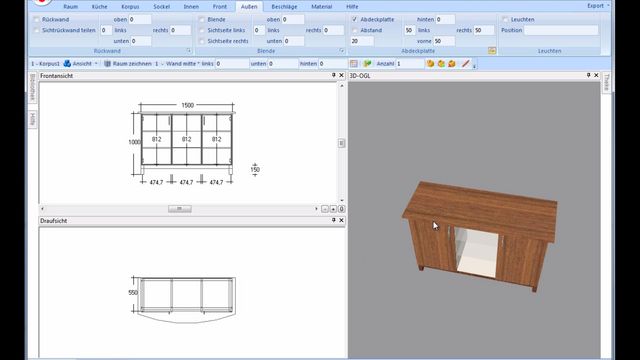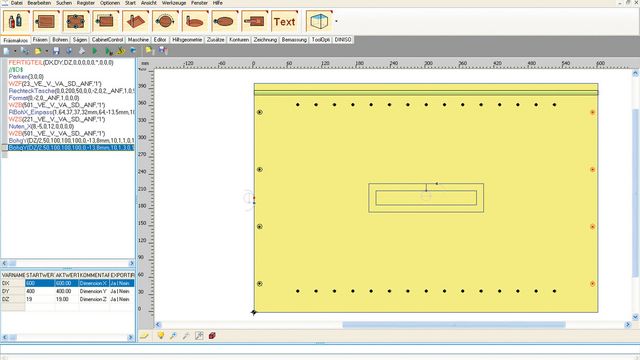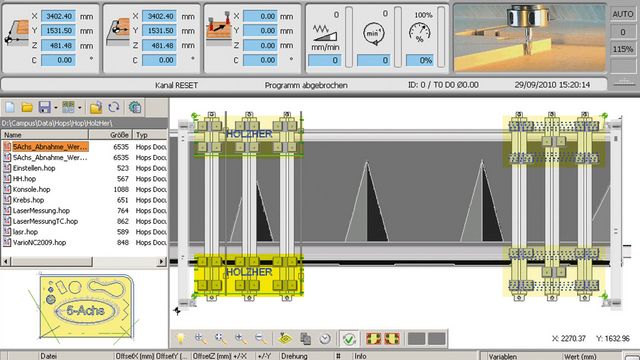 CabinetControl – software for simple furniture designing
Our high quality, user-friendly HOLZ-HER machine control system is an integral part of the machine's design. The equipment package includes CAMPUS / NC Hops with office and machine license and full-fledged aCADemy CAD software. The integrated CabinetControl Base furniture design software rounds out this premium package. This offer provides the prerequisites for effective machining and convenient operation with barcode interface, manual control unit, import features and much more.
CabinetControl Base included as standard feature in software package.
Design of furniture.
Views can be represented in 2D or 3D.
Quick adaptation to individual desires of furniture buyers.
Perfect presentation of furniture.
Automatic completion of cutting plans.
Generates CNC machining program automatically at the touch of a button.
An optional professional version, the CabinetControl PRO, is also available with library, calculation, data transfer to pressure beam saws, etc. Also ideal for planning kitchens and rooms.
CabinetControl Pro - Perfect 3D room planning with cabinet generator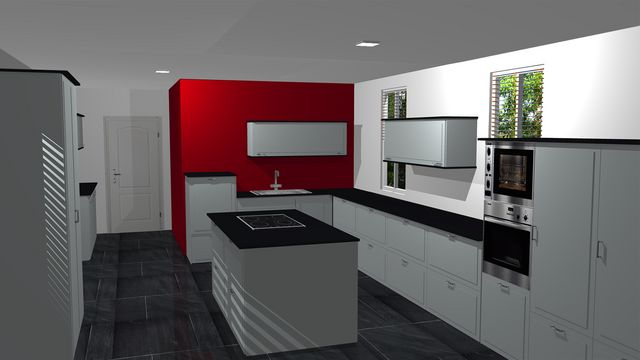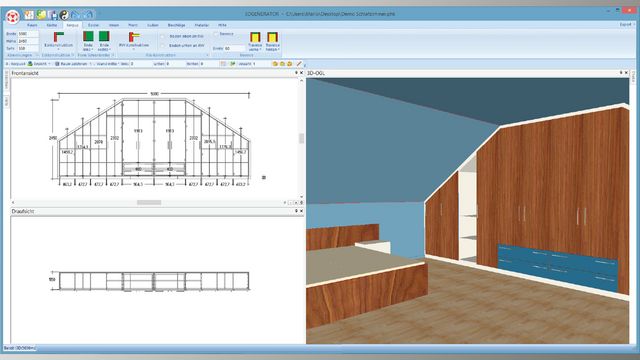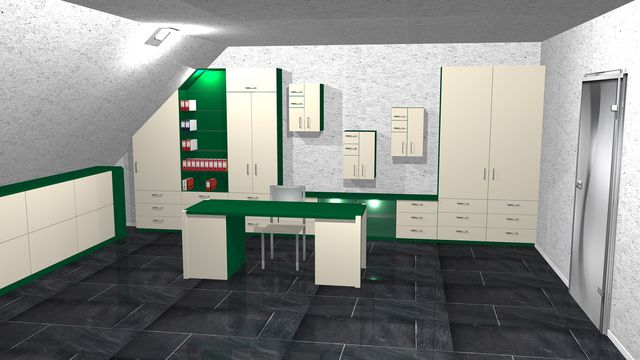 CabinetControl Pro is the extension for professional use in furniture planning and customer presentation. Plan furniture or design entire living situations. Support your customer's imagination for faster decisions. Present the planned furniture photorealistically from any perspective directly to the customer on site.
Furniture
Plan your furniture in different room situations: Wardrobes, pitched roof cupboards, dormer cupboards, kitchens, bathroom furniture, office furniture, wardrobes, sliding door cupboards, living room furniture, sideboards, built-in cupboards, hi-fi and TV furniture, counters, beds, tables, etc.
Simple
As a carpenter, you know how furniture is made. With just a few entries, you can go directly to the finished planning without any CAD knowledge at all. From there it is just a push of a button and all data is ready for production. This way you can quickly and easily get to the planning and work preparation stage.
Planning
Together with your customer you plan and present your furniture quickly and vividly. You implement any spontaneous change request directly and your customer immediately knows exactly what he is getting. This makes his decision easier and you will get your order more quickly.
The cutting data and the CNC programs for your HOLZ-HER panel saw and the HOLZ-HER CNC machine are automatically generated with the planning. The additional option TrunRAY perfects the display of the created renderings.
Machining head - perfect nesting results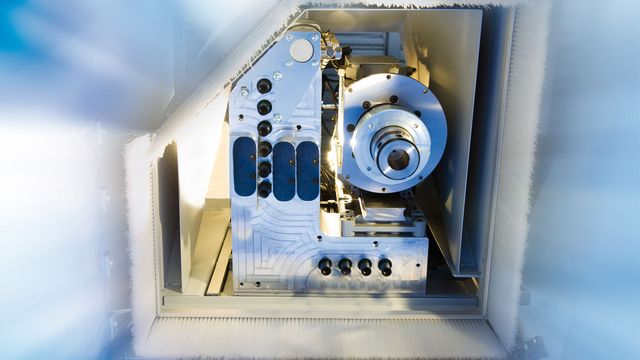 High speed nesting with powerful cutting spindles
Precise cutting spindles with ceramic bearings ensure optimum cutting results. Whether with 11 kW (air or liquid cooling) or 16 kW (liquid cooling) for extreme cutting performance, HOLZ-HER offers the ideal spindle for your range of applications.
The DYNESTIC is perfectly equipped with variable drilling heads.
10-Spindle version (standard)
Drilling unit with 10 vertical spindles (X = 6 / Y = 4)
Grooving saw in X direction (optional)
The optional pressure booster provides even more power for the drilling unit
14-Spindle version (optional)
Drilling unit with 10 vertical spindles (X = 6 / Y = 4)
Four horizontal spindles (one double drilling spindle in X direction / one in Y direction)
Grooving saw in X direction (optional)
The optional pressure booster provides even more power for the drilling unit
24-Spindle version (optional)
Drilling unit with 18 vertical spindles (X = 11 + 2 / Y = 6)
Six horizontal spindles (two double drilling spindles in X direction / one in Y direction)
Integrated grooving saw in X direction
The optional pressure booster provides even more power for the drilling unit
Highly flexible nesting table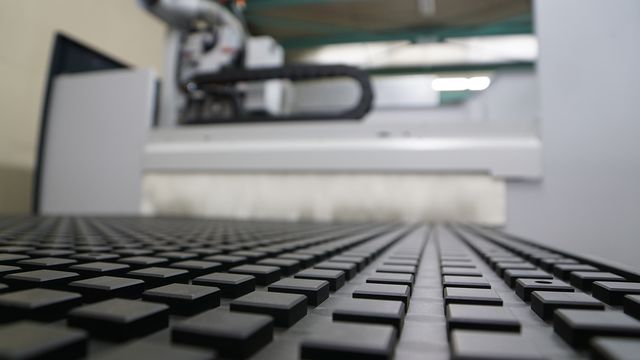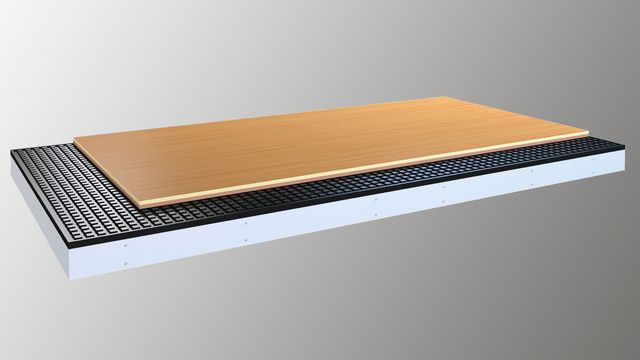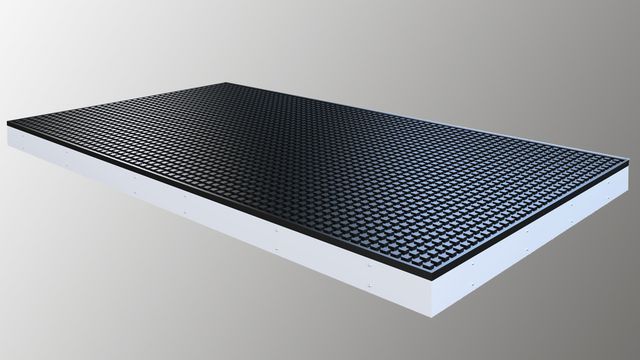 High-flow nesting table
Nesting technology for rational production. With the nesting process, a porous protective panel – usually a thin MDF panel – is held down on the machine table by a vacuum. It provides a large surface for suction and serves to support the workpieces to be processed. Nesting technology allows optimized processing and cutting of panel materials.
For formatting nesting cutting plans on the nesting table.
Workpieces can be processed with manually positioned suction cups.
The HOLZ-HER nesting table has small matrix dimensions – of only 50 mm – to ensure maximum vacuum flux over the entire table surface.
TouchLabel - overview of labels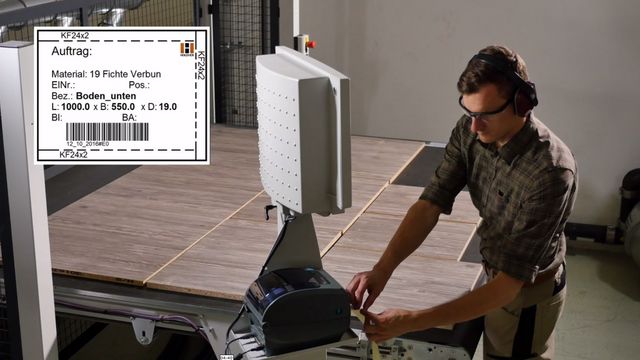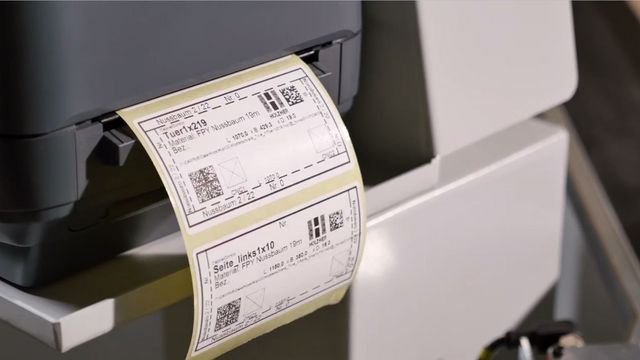 TouchLabel - the perfect solution for labeling
The 21,5" touch screen provides a perfect overview of the nesting results. Simply tap the workpiece and the label printer included in the package prints out a self-adhesive barcode label.
The integrated CAMPUS module label printer allows printout of normal text as well as barcodes (barcode and 2D data matrix). Naturally, your barcode labels can be adapted to your specific requirements with the label template editor.
Multiple circuit vacuum systems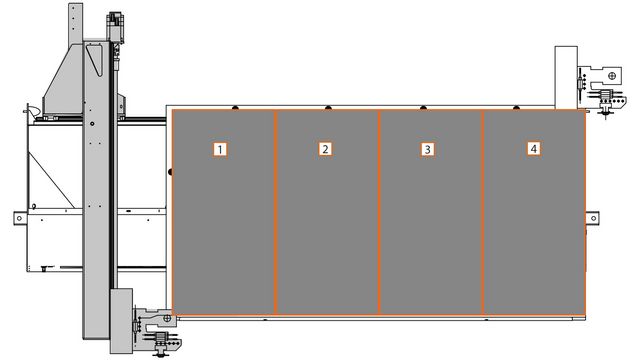 Flexible vacuum zones for variable panel sizes
The optional multiple circuit vacuum systems offer the possibility of subdividing the nesting table into various vacuum zones with the control. This feature makes it possible to choose between 2-field, 4-field and 8-field solutions.
Ideal for adapting the machining table to various workpiece sizes with simultaneously optimized vacuum.
Efficient vacuum technology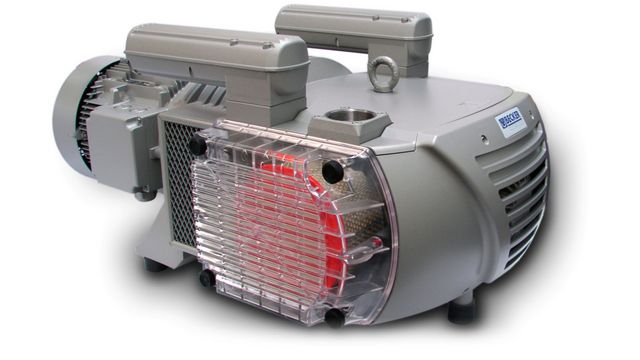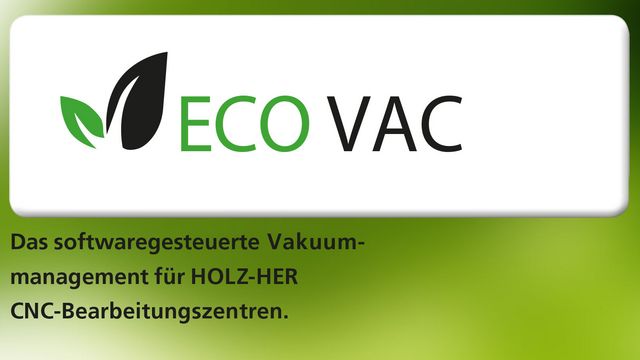 Extremely high performance, efficient vacuum pumps ensure workpiece is held securely. These low maintenance, dry-running pumps are also distinguished by their low noise emissions and extremely low maintenance requirements.
Moreover, our intelligent ECO VAC vacuum control uses a software program to ensure that the required vacuum power is always present when several pumps are used.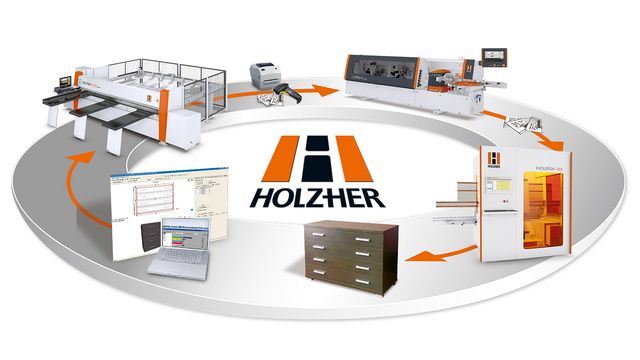 Maximum efficiency with Holz-Her machine networking
HOLZ-HER realizes your production ideas within 20 minutes from the first mouse click to finished furniture with seamless machine networking.
---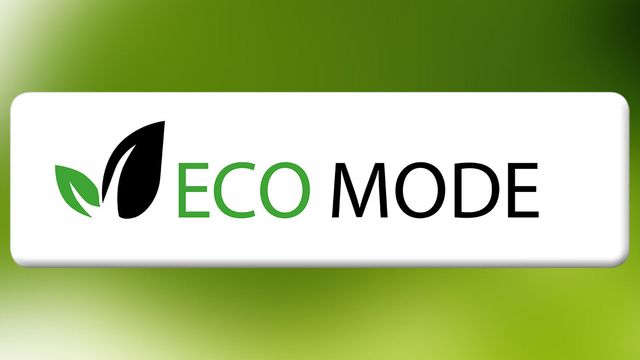 Energy savings made easy
The intelligent ECO Mode energy management for HOLZ-HER CNC machines not only helps preserve our environment - it also saves you money.
---
Simple free shaping with storage/nesting combination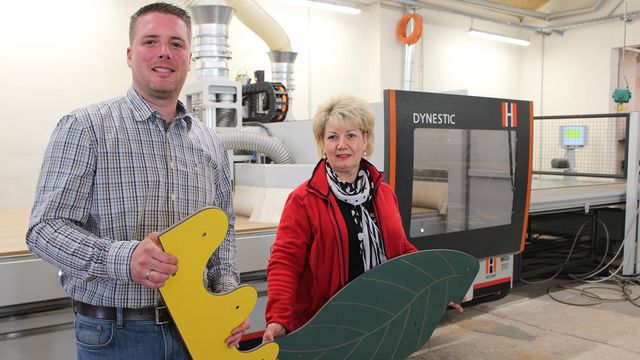 Templates are a thing of the past: Nesting technology is unbeatable for organic and decorative free shaping from panel material. This process with fully automatic panel storage in use at Sauerland Spielgeräte GmbH is truly efficient and ergonomic.
The point is having fun and providing creating play and learning activities, including physical and social activities: Sauerland Spielgeräte GmbH specializes in playground equipment of all types. With nearly 100 employees, this family-owned company in Salzkotten-Niederntudorf develops and produces a highly varied range of equipment to provide fun and enjoyment for small adventurers. This extremely versatile line of products ranges from swings to fanciful play houses for climbing and complete playground landscapes. [...]
Milling, Drilling, Engraving...
In the meantime the nesting/storage combination custom-made by HOLZ-HER to meet the requirements of Sauerland Spielgeräte GmbH provides a fully automatic production process for nearly 1,000 parts with different shapes and designs, all laid out for operation by one person. The complete system consists of the Store Master storage and material handling system with direct connection to the Dynestic 7532 Automatic CNC nesting machine. The process and operator guidance could hardly be simpler: Just use the machine control panel to call the optimized shaped part nest generated in a CAD/CAM system and processing can start. The manipulator moves the appropriate panel on the transfer table to the CNC machine. From here the machine pulls an unmachined panel onto the processing table equipped with an MDF protection panel and uses vacuum to clamp it right through the MDF panel. The machining center then completes all holes, milling operations and engraving on the individual workpieces. [...]
Three heroes – one vision: 5-axis CNC Nesting machining!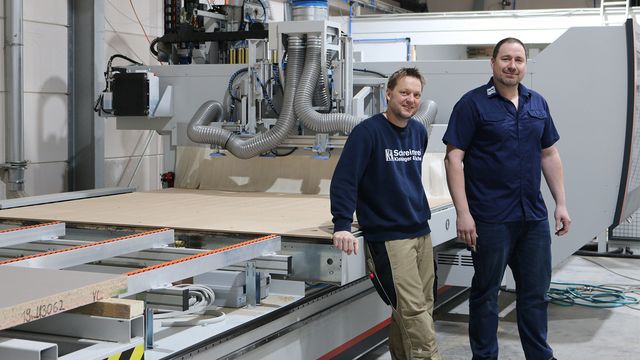 A story with three heroes: Sascha Kleisinger, his best friend Alexander Michel and the new NEXTEC 7735. These two carpenters founded their mutual company, the K&M Carpentry Shop, 17 years ago in a cowshed with 200 sq. meters of floor space.
From the very beginning the common idea was: "We want to build high quality, sophisticated, beautiful furniture." Today the shop is located on a 6,000 sq. meter lot and has 30 employees. The prerequisite for such success stories is creative and rapid reaction to changes in the market. Sascha Kleisinger: "After just a short time, we started making plans to industrialize our carpentry shop, without sacrificing our positioning as a craft shop." This was the time to take the third hero on board. The new NEXTEC 7735 from HOLZ-HER. This ingenious machine concept was the basis for the planned further growth perspectives. As the two carpenters saw their first NEXTEC demonstrations, they knew: That is precisely the CNC technology we were looking for.
On the 15 meter long machine with elevating table and conveyor belt, Sascha Kleisinger and Alexander Michel produce furniture components for regional carpentry shops as capable service providers. For this purpose a 1,000 sq. meter building was rented and a private company established with the name: Rheinhessen-Möbel [Rheinhessen Furniture] "This clearly shows that we are not competitors, but rather partners for our colleagues with fewer machines. But we also want to work for kitchen studios, who are otherwise dependent on the long delivery times in the industry." K&M serves private customers exclusively.
Saws, edgebanders and CNC machining centers from HOLZ-HER were in operation at these successful carpenters from the very beginning. "This was the key to building up a bond of trust in the course of years. Technology, performance and service provide a perfect overall picture for us. This is also why we were confident in putting our full trust in a top machine like the new NEXTEC."