AURIGA 1308XL now available in a multi-variant!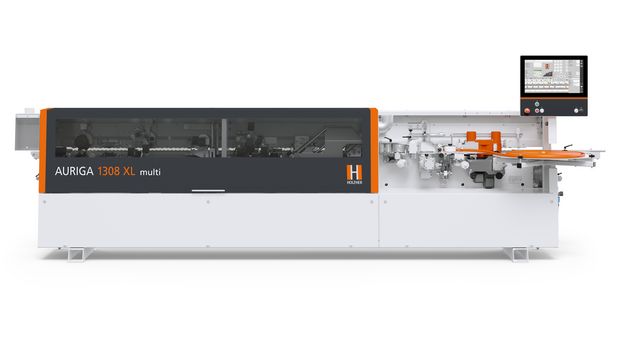 The Auriga 1308XL multi is a versatile machine capable of processing a variety of materials, including delicate surfaces. With 11 NC servo axes and the flexibility of the Glu Jet adhesive application system, it can quickly and easily meet the processing requirements of different materials. Furthermore, the axis control allows for precise positioning and high repeatability.
Multi-aggregates with consistent processing quality
The axis control enables precise positioning and high repeatability. The control allows for selecting predefined processing profiles, ensuring uncompromising processing of 1 mm or 2 mm edges in its class.
IntelliSet system for precise tool settings in the 1/100 mm range
The multi-aggregates are also equipped with the proven IntelliSet system. This allows the operator to adjust the tool in the 1/100 mm range using an interactive graphical display, for example, to compensate for the thickness of a protective film.
Proven adhesive application system: GluJet
The unique hybrid technology of the GluJet aggregate ensures a harmonious interaction between adhesive, edge, and workpiece. The GluJet system allows for easy use of EVA or PUR adhesive as adhesive cartridges or in granulate form. With a short heating time of only 3 minutes and low energy consumption for re-melting the adhesive, it is resource-efficient.
fa.s.t. setting technology
With fa.s.t. (Gap Setting), you can run various processes simultaneously on the edge banding machine. For example, you can intelligently activate the corner copying unit without having to run the machine empty for the setup process. In combination with the high-speed NC servo axes, this process is extremely efficient for you.