The EVOLUTION series – a machine for every application!
03/18/2016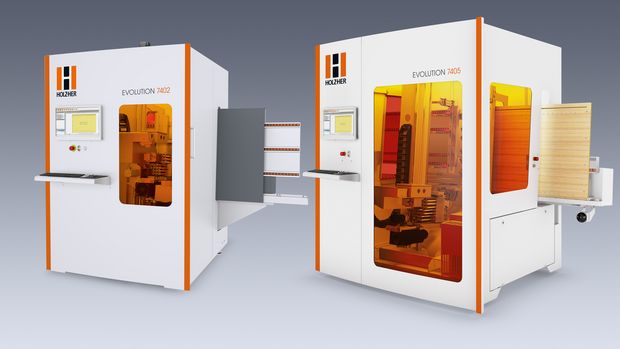 All White Edition special models are equipped with a floating license for the CAMPUS software, which allows access to this license from the company network. Integrated laser measurement for precisely determining the length of work pieces also comes as standard. This is ideal for use with material that has already been edged.
The series was reconfigured for the HOLZHANDWERK trade fair and starts with the EVOLUTION 7401, a vertical drilling center whose series drilling head is very well equipped with 9 vertical and 6 horizontal drill seats and a grooving saw. For extreme flexibility, the operator can also select the optional XL drilling head with up to 22 drilling spindles and a grooving saw.
Customers requiring a milling unit for formatting, cut-outs and pockets are also optimally served by the EVOLUTION 7402. The milling and drilling center is also equipped with a high-torque 5.6 kW spindle. Generous processing dimensions of 2,500 mm in direction X, with no additional support of the panels, and 920 mm in direction Y are a further advantage of the "small" EVOLUTION 7401/7402. The units also have very low space requirements.
The "large" EVOLUTION 7405 is a fully-fledged formatting and drilling center for 4-sided formatting and, in its "White Edition" variant, is also equipped with a 6x tool changer and 7.5 KW spindle with ceramic bearings and HSK seat. Impressive features include the processing dimension of 3,200 mm in direction X and 920 mm in direction Y as well as panel weights of up to 75kg. Material thicknesses are adjusted from 8 to 70 on all EVOLUTION models via fully-automated work piece adjustment with no setup time. The proven, fully-automated vacuum clamping system of the EVOLUTION series is now equipped with energy-saving ECO vacuum pumps as standard, ensuring a secure and protective hold of a wide range of materials.
The "EVOLUTION 7405 White Edition Connect" celebrated its premiere in Nuremberg. The Connect package includes an innovative tool changer for special EVOLUTION miter gears. Besides the familiar CNC complete processing, the equipment of the special model also enables the creation of milling pockets for the Lamello Clamex connector in direction X and direction Y as well as in the edges of the work pieces. The processing potential and the versatility of the EVOLUTION series are highly impressive.
For further details, visit holzher.de